LOGIN FOR MEETINGS & TO COMMENT
CONTACT US

T
he
M
eetings
C
ommunicator
Private, On & Off Record Chat
Live Meeting Wall
for Notes & Minutes
Canvass Opinions and Vote
Back Office Meeting Admin
The Meetings Communicator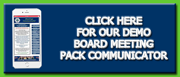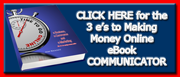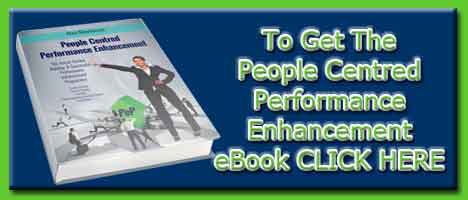 The Meetings Communicator (TMC)
Here is the Exec Summary: Our Virtual Meeting Rooms paired with our Meeting/Board Pack App will delight and modernise your meetings. We hide private meetings and market public meetings with our 4 channel marketing technology. Simply put we are like no other.

The Meetings Communicator is one of seven Webo divisions.

T

he

M

eetings

C

ommunicator

We Supply Specialist Webpages to Showcase Content

We're home to simple, affordable decision support that just works.

WE SUPPLY ONE CLICK - CONTENT COMMUNICATORS THAT DELIVER MEETING PACKS AND MORE

With a MEETINGS COMMUNICATOR site you can host all your meetings complete with MEETING PACK COMMUNICATORS for each meeting. You can build flipbook communicators for company systems and process guidelines. A few hundred product manuals on a Communicator App, just one click away on a phone would be a game changer.

AND WE SUPPLY VIRTUAL MEETING ROOMS

Create multiple virtual meeting rooms and use them to host meeting off the record chat, on the record comments, presentation sharing and opinion polling. You can open virtual meeting rooms early to finalise agendas, keep post meeting deliberations alive, host feedback and more.

MEETING PACK COMMUNICATORS, MEETING BLOGS & MEETING ROOMS.

We offer a DIY System to users and distributorships to those adding secretarial and governance services to corporates. Contact us for details of an accredited service provider.

We support face to face offline meetings and online meetings.

Online meetings can be attended in real-time by way of monitoring the virtual meeting rooms wall while participating in a video conference call.

Companies meet for many reasons. Schools meet for many reasons as do clubs, associations, distributors, franchisors, friends to celebrate and more.

We may also meet, as a class, to learn. We may meet, as an industry, at a trade show where we promote goods and services.

Participants join meetings by logging into a meeting page with a password to display the meeting wall with options such as links, instant messengers, voting, attachments, comments and chat.

When we meet we may scrum down as a team to tackle an agenda, make decisions and set up an action plan to get the decisions implemented. Also, we may meet to strategise, solve problems, be entertained, to learn, discuss options, devise plans, share ideas, listen and more.

Our PROCESS DRIVEN SYSTEM enhances your meeting outputs, impact and outcomes.

Our Communicators are game changers as we deliver one click, content to phones instantly.

WE ENABLE PAPERLESS MEETINGS

Live, Online Meeting Packs are phone friendly, tablet friendly, iPad friendly & PC friendly.

Meeting Walls are enabled in Virtual Meeting Rooms to support online or offline meetings.

Multiple Meeting Walls Manned by Back Office Admins

We provide a dashboard of "meeting walls", open "text chat, "

private "text chat,"

links to documentation, voting options, links to image and video galleries,

eBooks and P

owerP

oint presenters and much more. In the same way that live,

in-person meetings have someone to take minutes, we have a back office where an

Administrator or various A

dministrators can manage meeting walls. As an example,

we customised our back-office to accommodate Rug

by Africa

so that four Admins

could capture

the minutes (attended by delegates in four languages). At

the end of the meeting,

delegates could approve or suggest

edits to the draft minutes in a "home language"

of their choice and once released by an admin the draft minutes could be downloaded.

Directors Board Meetings & Companies Act Compliance

Th

e online text chat and private text chat enable delegates to be prepared for meetings by

receiving

meeting documentation on the phone app or in the meeting reading room and then

using the chat options to ask questions before the meeting. The dashboard chat archives can be cleared by Admins. The dashboard is thus not a formal record.

In addition to the dashboard chat, meeting delegates can vote or register concerns on the formal

comment option. These comments cannot be cleared by Admins and these comments together with approved minutes are saved to meet the requirements of section 73 (5) of the Companies Act.

We offer a range of meeting templates from board meeting agendas, resolutions, project planning and more. Users can also save custom company minute taking templates.

WE WORK WITH YOUR CHOICE OF AUDIO AND VIDEO CONFERENCE SYSTEM

We manage off the record, on the record and private messaging

for online meetings and for offline meetings.

Voting and opinion surveys offer live results. In essence, we are designed to support online video conferencing.

We can integrate with any video conferencing system such as Skype, Zoom, Teams, Free Conference Call, etc.

FreeConferenceCall.com is the most recognised conferencing brand in the world including nearly all Fortune 500 companies. It has consistently been voted in The Top 20 Meeting Software Awards. It offers private and live chat and screen sharing. There is no duration limit, the video chat can be recorded and delegates are limited to 1,000 in the free option. It is easy to use.

Skype has the advantage of simplicity and the "Meet Now" option maintains this tradition as Skype links do not change, you do not need to sign up limits are 4 hours and 100 hours per month. Skype records and saves conversations for 30 days, you can share your screen and it is a Microsoft product.

Zoom is one of the fastest-growing video conferencing platforms. The free version limits chat durations to 40 minutes. It offers break out rooms and plugin integration including Teams.

Teams is a Microsoft product that featured in the Top Webinar Software Awards in 2020. It is integrated with Microsoft Office. It offers conversation recording, screen sharing, chat and private chat and a max free version chat duration of 60 minutes. Teams is complex by comparison to the above options.

We help you to run more efficient, effective and cheaper meetings by providing pre-meeting support, meeting dashboards, integration with any video conferencing applications (by simply sharing our meeting rooms on the share screen functionality) and by providing meeting document packs.

IN SUMMARY, WE OFFER A TOOLBOX THAT ALLOWS YOU TO SHOWCASE CONTENT

- that allows you to communicate online meeting packs to members and

- that allows you to manage a virtual meeting room.

Live board packs save time, money and they offer easy access.

Virtual meeting rooms ( that can be open before and after meetings) with private,

on & off record chat, presentation sharing, links,

instant opinion surveys

and audio hook-up integration makes for efficient meetings.

All our Unlimted offers are subject to our Fair Usage Terms & Conditions.

A few thousand pages at 72 DPI are expected.