Subject Meeting Rooms and Reading Room Links on Pet Topics
CONTACT US
Finds Emergencies, Breeders and more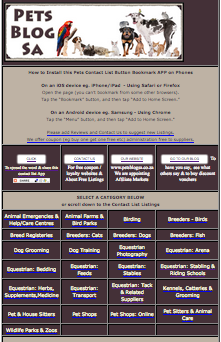 .
Webo Digital Pets Marketing Services
vanessa@webodigital.co.za
Find our Deals and Specials App at
Pets Blog SA
CLICK ON AN IMAGE ABOVE TO READ MORE.
Select an arrow above to see the next slide on our services.
Participation in our Webinars is free. Our site and blog is open to all.
Suppliers may submit attractive coupon deals for free on-site promotion.
We charge a small admin fee to those that purchase coupons.
We are hiring Affiliate Marketers to promote coupons deals.
If you are passionate about another topic, contact
Webo to set up a free WhatsGood
website like this for you.

f